Spatial tensions in CSCW: The political and ethical challenges of scale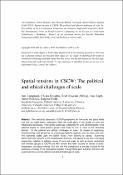 Files
Publisher
European Society for Socially Embedded Technologies (EUSSET)
Abstract
This workshop advances a CSCW-perspective on how scale and place relate and how we might better understand what role scale plays in the design of tools and collaborative processes. This full-day workshop is designed for up to 20 participants, to be selected based on short position papers that relate to one or more of the workshop themes: (1) the political and ethical challenges of scale, (2) modes of organizing, infrastructuring, and governing, (3) (inter)organizational aspects, and (4) place and care. The workshop builds upon the COST Action From Sharing to Caring: Examining Socio-Technical Aspects of the Collaborative Economy that played a key role in bringing researchers together to address issues of care and scale, as well as recent workshops and interests groups at CSCW and HCI venues that have focused on issues of scale, cooperation, and place-making. Our aim with this workshop is to provide a space for the continued unfolding of the discussions sparked through these prior activities, this time with a particular focus on the political and ethical challenges of scale.
Keywords
Scale
,
Care
,
Cooperation
,
Place-making
,
Political and ethical challenges of scale
Citation
Lampinen, A., Rossitto, C., Roscam Abbing, R., Light, A., Fedosov, A., Ciolfi, L. (2023) 'Spatial tensions in CSCW: The political and ethical challenges of scale', Proceedings of 21st European Conference on Computer-Supported Cooperative Work (ECSCW 2023), June 5-9, 2023, Trondheim, Norway. doi: 10.48340/ecscw2023_ws02
Collections
Copyright
© 2023, the Authors. Permission to make digital or hard copies of part or all of this work for personal or classroom use is granted without fee provided that copies are not made or distributed for profit or commercial advantage and that copies bear this notice and the full citation on the first page. Abstracting with credit is permitted. To copy otherwise, to republish, to post on servers, or to redistribute to lists, contact the Authors.