Involvement of incipient hydrous oxide species in electrocatalysis at some metal electrode surfaces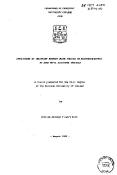 Files
Abstract
In this thesis a novel theory of electrocatalysis at metal (especially noble metal)/solution interfaces was developed based on the assumption of metal adatom/incipient hydrous oxide cyclic redox transitions. Adatoms are considered as metastable, low coverage species that oxidise in-situ at potentials of often significantly cathodic to the regular metal/metal oxide transition. Because the adatom coverage is so low the electrochemical or spectroscopic response for oxidation is frequently overlooked; however, the product of such oxidation, referred to here as incipient hydrous oxide seems to be the important mediator in a wide variety of electrocatalytically demanding oxidation processes. Conversely, electrocatalytically demanding reductions apparently occur only at adatom sites at the metal/solution interface - such reactions generally occur only at potentials below, i.e. more cathodic than, the adatom/hydrous oxide transition. It was established that while silver in base oxidises in a regular manner (forming initially OHads species) at potentials above 1.0 V (RHE), there is a minor redox transition at much lower potentials, ca. o.35 v (RHE). The latter process is assumed to an adatom/hydrous oxide transition and the low coverage Ag(l) hydrous oxide (or hydroxide) species was shown to trigger or mediate the oxidation of aldehydes, e. g. HCHO. The results of a study of this system were shown to be in good agreement with a kinetic model based on the above assumptions; the similarity between this type of behaviour and enzyme-catalysed processes - both systems involve interfacial active sites - was pointed out. Similar behaviour was established for gold where both Au(l) and Au(lll) hydrous oxide mediators were shown to be the effective oxidants for different organic species. One of the most active electrocatalytic materials known at the present time is platinum. While the classical view of this high activity is based on the concept of activated chemisorption (and the important role of the latter is not discounted here) a vital role is attributed to the adatom/hydrous oxide transition. It was suggested that the well known intermediate (or anomalous) peak in the hydrogen region of the cyclic voltanmogram for platinum region is in fact due to an adatom/hydrous oxide transition. Using potential stepping procedures to minimise the effect of deactivating (COads) species, it was shown that the onset (anodic sweep) and termination (cathodic sweep) potential for the oxidation of a wide variety of organics coincided with the potential for the intermediate peak. The converse was also shown to apply; sluggish reduction reactions, that involve interaction with metal adatoms, occur at significant rates only in the region below the hydrous oxide/adatom transition.
Keywords
Electrocatalysis at metal solution interfaces
,
Redox transitions
Citation
O'Leary, W. A. 1989. Involvement of incipient hydrous oxide species in electrocatalysis at some metal electrode surfaces. PhD Thesis, University College Cork.