Fractionation and compositional studies of rabbit skeletal muscle membranes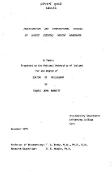 Files
Abstract
The observations of Hooke (1665), Schleiden & Schwann (1839) and Virchow (1855) led to the identification of the cell as the basic structural unit of living material. In the intervening years, it has been firmly established that the chemical processes which underlie the proper functioning, development and reproduction of the organism are cellular activities. The development of the electron microscope has enabled cell structure to be studied in detail. A picture of the cell as an entity with a complex and highly organised internal structure has emerged from the work of Palade, Porter, Fernandez-Moran and many others. Although cells from different tissues and organisms differ in aspects of their structure and consequently in function, they have several features in common. A retentive membrane encloses a number of cell constituents, which include membrane-enclosed subcellular structures known as organelles. The cells of most tissues also contain a reticulum or system of branching tubules. The interplay of the biochemical activities of these structures enables the cell to function. Almost thirty years ago, Claude, Palade, Schneider, Hogeboom, de Duve and others set out to analytically fractionate the subcellular components obtained after the fragmentation of liver cells. This approach has become known as subcellular fractionation, and signalled a major conceptual breakthrough in biochemistry (reviewed by de Duve, 1964, 1967, 1971). The significance of this breakthrough has been underlined by the award of the 1974 Nobel Prize in Medicine to de Duve, Palade and Claude. This thesis is concerned with the application of subcellular fractionation techniques to the separation and characterisation of the membrane systems of the rabbit skeletal muscle cell.
Keywords
Membrane systems
,
Subcellular fractionation techniques
,
Rabbit skeletal muscle cell
Citation
Barrett, E. J. 1975. Fractionation and compositional studies of rabbit skeletal muscle membranes. PhD Thesis, University College Cork.