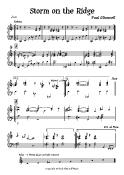 Files
Abstract
Storm on the Ridge is a dark and brooding soundscape piece which utilises the exotic harmonic base of C melodic minor. The Time signature is 7/4.
Keywords
C melodic minor soundscape
,
Jazz composition
Citation
O'Donnell, P. (2013). Storm on the Ridge. Unpublished music score.
Collections
Copyright
© 2013, Paul O'Donnell.