A policy analysis of key employability interventions for the educationally disadvantaged in further education: Comparative insights for Irish education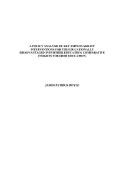 Files
Abstract
The aim of this study is to garner comparative insights so as to aid the development of the discourse on further education (FE) conceptualisation and the relationship of FE with educational disadvantage and employability. This aim is particularly relevant in Irish education parlance amidst the historical ambiguity surrounding the functioning of FE. The study sets out to critically engage with the education/employability/economy link (eee link). This involves a critique of issues relevant to participation (which extends beyond student activity alone to social relations generally and the dialogic participation of the disadvantaged), accountability (which extends beyond performance measures alone to encompass equality of condition towards a socially just end) and human capital (which extends to both collective and individual aspects within an educational culture). As a comparative study, there is a strong focus on providing a way of conceptualising and comparatively analysing FE policy internationally. The study strikes a balance between conceptual and practical concerns. A critical comparative policy analysis is the methodology that structures the study which is informed and progressed by a genealogical method to establish the context of each of the jurisdictions of England, the United States and the European Union. Genealogy allows the use of history to diagnose the present rather than explaining how the past has caused the present. The discussion accentuates the power struggles within education policy practice using what Fairclough calls a strategic critique as well as an ideological critique. The comparative nature of the study means that there is a need to be cognizant of the diverse cultural influences on policy deliberation. The study uses the theoretical concept of paradigmatic change to critically analyse the jurisdictions. To aid with the critical analysis, a conceptual framework for legislative functions is developed so as to provide a metalanguage for educational legislation. The specific contribution of the study, while providing a manner for understanding and progressing FE policy development in a globalized Ireland, is to clear the ground for a more well-defined and critically reflexive FE sector to operate and suggests a number of issues for further deliberation.
Keywords
Employability
,
Legislation
,
Culture
,
Comparative
,
Further education
,
Educational disadvantage
,
Critical policy analysis
Citation
Boyle, J. P. 2014. A policy analysis of key employability interventions for the educationally disadvantaged in further education: Comparative insights for Irish education. PhD Thesis, University College Cork.