Experimental impulse radio IEEE 802.15.4a UWB based wireless sensor localization technology: Characterization, reliability and ranging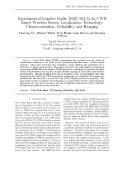 Files
Publisher
Insitution of Engineering and Technology
Abstract
Ultra Wide Band (UWB) transmission has recently been the object of considerable attention in the field of next generation location aware wireless sensor networks. This is due to its fine time resolution, energy efficient and robustness to interference in harsh environments. This paper presents a thorough applied examination of prototype IEEE 802.15.4a impulse UWB transceiver technology to quantify the effect of line of sight (LOS) and non line of sight (NLOS) ranging in real indoor and outdoor environments. Results included draw on an extensive array of experiments that fully characterize the 802.15.4a UWB transceiver technology, its reliability and ranging capabilities for the first time. A new two way (TW) ranging protocol is proposed. The goal of this work is to validate the technology as a dependable wireless communications mechanism for the subset of sensor network localization applications where reliability and precision positions are key concerns.
Keywords
Ultra-wideband (UWB)
,
Two way ranging protocol
,
Reliability
,
Line of sight (LOS)
,
Non line of sight (NLOS)
Citation
Ye, T., Walsh, M., Haigh, P., Barton, J., & O'Flynn, B. (2011). Experimental impulse radio IEEE 802.15.4a UWB based wireless sensor localization technology: Characterization, reliability and ranging. Paper presented at the ISSC 2011, 22nd IET Irish Signals and Systems Conference, Dublin, Ireland, 23-24 Jun 2011.