The impact of online peer influence and information modality on investor decision making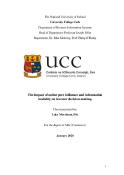 Files
Abstract
The growth in online investing is illustrated by the popularity of online investing platforms and the growing pool of literature within the field. The internet and online investing platforms have allowed investors to directly invest funds with no intermediary, with low capital requirements, and low commissions and fees. While the internet has significantly simplified the investment process, it has also introduced new ways investors can process and receive information. From this, the overall objective of exploring how information is processed and received by investors, through the lens of copy trading, social media and information modality was developed in this research. Existing literature points out tendencies among online investors to use social media to gather investment-related information, leading this research to the exploration of social media usage among online investors in Chapters 2 and 3. Chapter 2 explores emerging social trading networks in which investors have full visibility of others' trades, which they can copy directly; this is referred to as copy trading. The transparency of copy trading adds to the information available to investors online, as investors can inform their own investment decisions based on others'. The research identifies drivers of investor engagement in copy trading. Following this, Chapter 3 further explores the communication of investment-related information on social media and the corresponding impact of social media usage on investor overconfidence. In terms of exploring how online investors receive information, existing literature in the field of information modality suggests that emerging voice-based user-interfaces such as Amazon's Alexa have resulted in increased consumption of audible information. With investor information in mind, Chapter 4 explores the impact of combined audible and visual information on investor decision making. Results from Chapter 2 identify that for online investors to engage in copy trading, they must be provided with sufficient information to trust the investor they are copying. From there, Chapter 3 described how online investors who use social media to gather investment-related information are overconfident in their investment decisions. Finally, Chapter 4 highlights the superiority of visual information over combined audible and visual information in the context of online investing.
Keywords
Fintech
,
Online peer influence
,
Information modality
,
Investor decision making
Citation
Merriman, L. 2020. The impact of online peer influence and information modality on investor decision making. MRes Thesis, University College Cork.