A comparison of the use of whole milk and fat-filled milk powders for production of heat-stable long-life beverages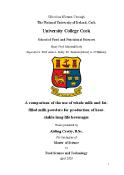 Files
Abstract
Commercial bovine milk is 3.5% fat, the level of which is affected by seasonality, stage of lactation, feed, health, breed, and even the individual teat. Milk (and other liquid dairy products) are highly perishable due to their nutritional quality, as they are the sole source of nutrition for the neonate. As a result, milk is often dehydrated into powder form, which enhances its shelf life, its storage stability, and the convenience. Another way to enhance the shelf life of milk is to subject it to heat to destroy pathogenic bacteria, enzymes, spores, and to enhance the shelf life of the product. As most dairy products are subjected to some form of heat treatment, their heat stability is integral to the overall quality of the product. In Chapter 2, two reconstituted dairy powders (fat-filled milk powder (FFMP) and whole milk powder (WMP)) were compared under two heat treatments (UHT-processing and retort sterilisation), and three protein contents (2.3, 3.3, and 5%). These variables significantly affected the apparent viscosity, the pH, the colour, the emulsion stability, and the average particle size of the samples. Chapter 3 investigated the influence of calcium-chelating salts on heat stability. These salts are an often-used ingredient in dairy products, as they enhance the heat stability of the system by binding the calcium ions, which are important for casein micelle integrity. The influence of trisodium citrate (TSC), disodium hydrogen phosphate (DSHP), and sodium hexametaphosphate (SHMP) on heat stability, colour, and apparent viscosity was examined. SHMP had the most significant effect on heat stability, colour, and apparent viscosity due to its chelating capacity and its influence on cross-linking between the casein micelles. DSHP had no significant effect on viscosity or colour, whereas the addition of 20 mmol/L of TSC significantly affected the colour of the solution.
Keywords
Dairy
,
Processing
,
Milk powder
,
Fat-filled
,
Retort sterilisation
,
UHT
,
Long life beverages
,
Nutritional beverage
,
Dairy salts
,
Calcium chelating salts
Citation
Crotty, A. 2020. A comparison of the use of whole milk and fat-filled milk powders for production of heat-stable long-life beverages. MRes Thesis, University College Cork.