Seeking pathways towards improved transboundary environmental governance in contested marine ecosystems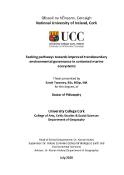 Files
Abstract
In academic circles, international maritime boundaries have received renewed interest as a consequence of geopolitically charged events. As marine resources become scarcer, transboundary ecosystems that were previously looked upon as peripheral are increasing in importance. Over 200 maritime boundaries are as yet unresolved due largely to conflicting and entrenched legal or political positions or limited political will to break to impasse. Intractable conflicts that occur in these contexts are highly political, long-term, complex, dynamic and extremely resistant to change despite genuine efforts to resolve them. Whilst some borders have a legally common delimited line agreed by adjoining states through an international agreement, they can be fiercely contested by one side despite a formally agreed framework. In other border areas, when ownership of a territory is disputed, the absence of an agreement on ownership and a clearly defined boundary line creates potential for conflict. Examples of both of these scenarios within the marine environment were examined as in-depth case studies in this thesis. This study addressed the complexity associated with resolving conflicts in contested transboundary marine ecosystems and explored whether agreed maritime boundaries are essential, or whether some resource conflicts can be successfully managed through informal arrangements or resource sharing regimes in contested marine ecosystems. A multi-perspective interdisciplinary meta-analytical framework and timeline mapping technique was applied in two diverse case studies from the Global North and Global South: Lough Foyle separating the Republic of Ireland and Northern Ireland and Palk Bay separating India and Sri Lanka. Primary and secondary data collection included extensive fieldwork in both study sites, desktop research, media content analyses, participatory GIS conflict hot-spot mapping and 67 semi-structured interviews with key informants representing government, industry, the research community and civil society. Trajectory of Change Timelines were developed for both case studies as a tool for the systematic analysis of the protracted conflicts through the identification of parallel historical and geopolitical transformations that have influenced the status quo. Based on the case study findings, a number of prominent contextual factors and uncertainties that drive resource conflicts in contested regions were identified; (i) the footprint of the past: the legacy of colonialism and arbitrarily drawn boundaries; (ii) coastal border regions: the paradox of spatial proximity to neighbouring States and peripherality from the seats of political power; (iii) strategy or apathy: the consequences of political inaction; (iv) the limitations of LOSC and existing theories of environmental governance; (v) the challenges of moving away from traditional approaches based on political boundaries towards integrated ecosystem-based governance. Transboundary environmental governance in these settings is inherently a political process, ultimately determined by the broader historical and geopolitical context, and often subject to apathy or strategy by neighbouring coastal states. Resource conflicts arising from contested marine ecosystems pose insights into a level of complexity and uncertainty in real-world scenarios that fail to align with conventional principles or theoretical best practice frameworks. Political leadership is critical in addressing transboundary issues through cooperative approaches with neighbouring jurisdictions. Conceptual or theoretical best practice frameworks for environmental governance are immaterial if political leaders are not willing to come to the table and agree on pathways to break the impasse. The following evidence-based insights for future governance options of contested marine ecosystems were formulated within the context of current geopolitical realities: breaking the political deadlock by re-framing the issue; 'agreeing to agree' by reaching a bilateral agreement supported and implemented by both Governments on a mutually acceptable boundary line; or 'agreeing to disagree' on boundary delimitation but cooperating through a joint development scheme.
Keywords
Transboundary
,
Contested ecosystems
,
Marine governance
,
Environmental governance
,
Maritime disputes
Citation
Twomey, S. 2020. Seeking pathways towards improved transboundary environmental governance in contested marine ecosystems. PhD Thesis, University College Cork.