Supporting therapist engagement in evidence based practice: Developing a continuing education programme through participatory action research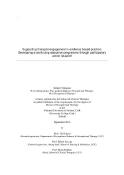 Files
Abstract
Therapists find it challenging to integrate research evidence into their clinical decision-making because it may involve modifying their existing practices. Although continuing education (CE) programmes for evidence-based practice (EBP) have employed various approaches to increase individual practitioner's knowledge and skills, these have been shown to have little impact in changing customary behaviours. To date, there has been little attempt to actively engage therapists as collaborators in developing educational processes concerning EBP. The researcher collaborated with seven clinical therapists (one occupational therapist, four physiotherapists and two speech and language therapists) enrolled in a new post-qualification Implementing Evidence in Therapy Practice (IETP) MSc module to monitor and adapt the learning programme over ten weeks. The participating therapists actively engaged in participatory action research (PAR) iterative cycles of reflecting→ planning→ acting→ observing→ reflecting with the researcher. Mixed methods were used to evaluate the IETP module and its influence on therapists' subsequent engagement in EBP activities. Data were gathered immediately on completion of the module and five months later. Immediate post-module findings revealed four components as being important to the therapists: 1) characteristics of the learning environment; 2) acquisition of relevant EBP skills; 3) nature of the learning process; and 4) acquiring confidence. The two themes and sub-themes which emerged from individual interviews conducted five months post-module expanded on the four components already identified. Theme 1: Experiencing the learning (sub-themes: module organisation; learning is relational; improving the module); and theme 2: Enacting the learning through a new way of being (sub-themes: criticality and reflection; self agency; modelling EBP behaviours; positioning self in an EB work culture). The therapists' perspectives had by then shifted from that of a learner to that of a clinician constructing a new sense of self as an evidence-based practitioner. Findings from this study underline the importance of the process of socially constructed knowledge and of empowering learners through collaboratively designed continuing education programmes. In the student-driven learning environment, therapists chose repetitive skill-building and authentic problem-solving activities which reflected the complexity of the environments to which they were expected to transfer their learning. These findings have implications for educators designing EBP continuing education programmes, during which students develop professional ways of being.
Keywords
Evidence based practice
,
Participatory action research
,
Continuing education
Citation
Crausaz, J. 2013. Supporting therapist engagement in evidence based practice: Developing a continuing education programme through participatory action research. DOccT Thesis, University College Cork.