Design history: exploring corporate communities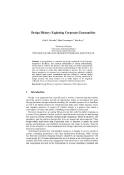 Files
Abstract
A design history is a narrative involving a multitude of social groups, interpretive flexibility, and eventual stabilization of shared understanding. Design history surfaces the practices that help shape and define engagements and can increase not only our theoretical understanding of what design is, but also our capacity to realize this understanding in practice. We use a design history perspective to examine how corporate technology initiatives establish and support open source communities and the crafting of relevant design practices that enable their advancement. We foster an evolving expression of design research that treats artifacts not as stable objects to be singularly evaluated, but as evolving systems contingent on historical trajectories.
Keywords
Design history
,
Corporate communities
,
DSN
,
Open source
Citation
HOVORKA, D. S., GERMONPREZ, M., LEVY, M. . 2015. Design history: exploring corporate communities. In: DONNELLAN, B., GLEASURE, R., HELFERT, M., KENNEALLY, J., ROTHENBERGER, M., CHIARINI TREMBLAY, M., VANDERMEER, D. & WINTER, R. (eds.) At the Vanguard of Design Science: First Impressions and Early Findings from Ongoing Research Research-in-Progress Papers and Poster Presentations from the 10th International Conference, DESRIST 2015. Dublin, Ireland, 20-22 May. pp. 47-52.
Copyright
©2015, The Author(s).