Uncle Tom's Cabin and the Irish National Tale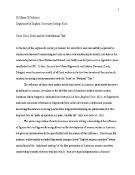 Files
Keywords
Sydney Owenson
,
Early American women's writing
,
Influences on American women writers
Citation
Ó Gallchoir, Clíona (2006) 'Uncle Tom's Cabin and the Irish National Tale' In: Sarah Meer; Denise M. Kohn, Emily Todd (Eds.). Transatlantic Stowe: Harriet Beecher Stowe and European Culture. Iowa : Iowa University Press.
Copyright
This material was excerpted from the book TRANSATLANTIC STOWE: HARRIET BEECHER STOWE AND EUROPEAN CULTURE., written by Clíona Ó Gallchoir, edited by Denise M. Kohn, Sarah Meer, and Emily Todd and published by the University of Iowa Press. Copyright © 2006 by the University of Iowa Press. Archived with permission. All rights reserved. No part of this chapter may be reproduced or stored in any other retrieval system, transmitted, or distributed in any form, by any means, electronic, mechanical, photographic, or otherwise, without the prior permission of University of Iowa Press. For more information, contact Rights and Permission Manager, uipress@uiowa.edu.