Remembrance of the ancestors in contemporary paganism: Lineage, identity, and cultural belonging in the Irish context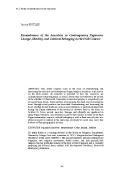 Files
Publisher
ISASR in association with the Study of Religions, University College Cork
Abstract
This article explores some of the ways of remembering and honouring the ancestors in contemporary Pagan religious traditions, with a focus on the Irish context. An overview is provided of how the "ancestors" are conceptualised within Paganism, as well as where they are believed to be located in the afterlife or Otherworld. Veneration of ancestral peoples is a significant part of many Pagan rituals. Some methods of honouring the dead, and contacting the dead, through ritual practices are described. Remembering and honouring the dead, whether distant forebears or more recent relatives, is particularly important during the Pagan celebration of the festival of Samhain, feast of the dead, on October 31. Issues around ancestors, lineages and ethnicity are significant in many Pagan traditions, and attention is paid to these factors in terms of the Irish Pagan community's sense of cultural belonging as well as their sense of place in a physical respect in relation to the landscape, proximity of sacred sites, and other features of their geographical location.
Keywords
Paganism
,
Ancestors
,
Remembrance
,
Celtic
,
Ireland
,
Samhain
Citation
BUTLER, J. 2015. Remembrance of the ancestors in contemporary paganism: Lineage, identity, and cultural belonging in the Irish context. Journal of the Irish Society for the Academic Study of Religions, 2(1), 94-118.
Copyright
© 2015, The Author(s).