St. Columba, Silnán, and the 'Male Bovine' (VC 2.17)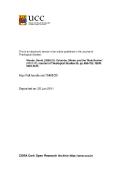 Files
Abstract
At Vita Columbae VC 2.17, Adomnán has severely misunderstood a written source which originally described how Columba ordered one party to a dispute, an alleged maleficus 'evil-doer' called Silnán, to milk a sick cow in order to settle the dispute by demonstrating that its contaminated milk was the real, hidden cause of the harm which had occasioned the dispute. Adomnán misread a description of a bos maculosus 'pock-marked bovine' to refer to a bos masculus 'male bovine', and proceeded to misunderstand the story as the description of some form of contest between Columba and a maleficus 'sorcerer'.
Keywords
Adomnan
,
Life of Columba
,
hagiography
,
Saint Columba
Citation
Woods, D., 2008. St. Columba, Silnán, and the 'Male Bovine' (VC 2.17). Journal of Theological Studies, 59(2), pp. 696-702.
Copyright
© The Author 2008. Published by Oxford University Press. All rights reserved.