Investigation of growth and stress tolerance characteristics of Cronobacter spp.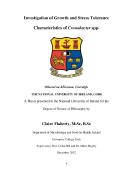 Abstract
Cronobacter spp. are opportunistic pathogens which can be isolated from a wide variety of foods and environments. They are Gram negative, motile, non-spore forming, peritrichous rods of the Enterobacteriaceae family. This food-borne pathogen is associated with the ingestion of contaminated infant milk formula (IMF), causing necrotizing enterocolitis, sepsis and meningitis in neonatal infants. The work presented in this thesis involved the investigation and characterisation of a bank of Cronobacter strains for their ability to tolerate physiologically relevant stress conditions that are commonly encountered in the gastrointestinal tract. While all strains were able to endure the suboptimal conditions tested, noteworthy variations were observed between strains. A collection of these strains were Lux-tagged to determine if their growth could be tracked in IMF by measuring bioluminescence. The resulting strains could be easily and reproducibly monitored in real time by measuring light emission. Following this a transposon mutagenesis library was created in one of the Lux-tagged strains of Cronobacter sakazakii. This library was screened for mutants with affected growth in milk. The majority of mutants identified were associated with amino acid metabolism. The final section of this thesis identified genes involved in the tolerance of C. sakazakii to the milk derived antimicrobial peptide, Lactoferricin B (Lfcin B). This was achieved by creating a transposon mutagenesis library in C. sakazakii and screening for mutants with increased susceptibility to Lfcin B. Overall this thesis demonstrates the variation between Cronobacter strains. It also identifies genes required for growth of the bacteria in milk, as well as genes needed for antimicrobial peptide tolerance.
Keywords
Cronobacter sakazakii
,
Milk
Citation
Flaherty, C, 2012. Investigation of growth and stress tolerance characteristics of Cronobacter spp.. PhD Thesis, University College Cork.