Religion, the study of religion and other products of transnational and colonial imaginings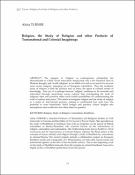 Files
Publisher
ISASR in association with the Study of Religions, University College Cork.
Abstract
The category of 'religion' as contemporary scholarship has demonstrated is a fairly recent innovation, dating back only a few hundred years in Western thought, and 'world religions' as we think of it and as we teach it is an even more recent category, emerging out of European colonialism. Thus the academic study of religion is both the product and, at times, the agent of colonial modes of knowledge. And yet, it is perhaps because 'religion' continues to be invented and reinvented through connections across cultures that investigating the work of religious ideas and practices offers such fruitful possibilities for understanding the work of culture and power. This article investigates religion and the study of religion as a mode of anti-colonial practice, seeking to understand how each have the potential to cross boundaries, build bridges and produce critical insights into assumptions and worldviews too often taken for granted.
Keywords
Religion
,
Study of religion
,
Colonialism
,
Buddhism
Citation
TURNER, A. 2014. Religion, the study of religion and other products of transnational and colonial imaginings. Journal of the Irish Society for the Academic Study of Religions, 1(1), 12-25.
Copyright
©2014, The Author(s).