Rheumatoid arthritis and atherosclerosis: common pathogenic mechanisms explored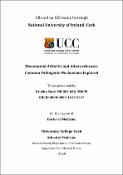 Files
Abstract
This body of work draws on parallels between the pathogenesis of rheumatoid arthritis (RA) and atherosclerosis. The pathogenesis and genetic basis of both diseases are described and compared. I describe how a polymorphism of the CX3CR1 gene, which has been shown to have a protective association against atherosclerosis, is shown to have has a similar protective association against RA. Using immunohistochemistry and confocal microscopy, I demonstrate that monocytes co-localise with CX3CR1 in human RA synovium, providing further evidence of the chemotactic effects between monocytes and the FKN/CX3CR1 axis and the significance of CX3CR1 in RA pathogenesis. Finally, I describe an association between seropositive RA and soluble Glycoprotein VI (sGPVI), a specific marker of platelet activation, providing further evidence that platelet activation is associated with seropositive RA and is likely antibody mediated. Together this body of work identifies shared pathogenic mechanisms between RA and atherosclerosis and identifies potential therapeutic targets for both RA and atherosclerosis.
Keywords
Rheumatoid arthritis
,
CX3CR1
,
GPVI
,
Atherosclerosis
,
Soluble GPVI
,
Genetic case control study
,
Biomarker
Citation
Stack, J. R. 2020. Rheumatoid arthritis and atherosclerosis: common pathogenic mechanisms explored. MD Thesis, University College Cork.