The role of copper in the electronics industry as an interconnecting agent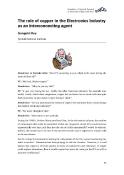 Abstract
Mendeleev to Periodic table: "Dear PT, according to you, which is the most boring element of them all?" PT: "My Lord, Maybe copper?" Mendeleev: "Why do you say this?" PT: "It gets very boring for me. Unlike the other transition elements, for example iron, nickel, cobalt, which show magnetism, copper has no choice but to settle with one spin. Such monotony in spin makes it quite boring, I think." Mendeleev:- "Do you understand the beauty of copper? Do you know that it could change the modern electronics industry?" PT: "No, never thought of that." Mendeleev: "Then listen to me carefully.
Keywords
Copper
,
Electronics industry
,
Interconnecting agent
Citation
Dey, G. (2011). The role of copper in the Electronics Industry as an interconnecting agent. The Boolean, pp.53-56.