Techniques for engineering quantum states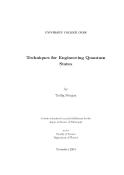 Files
Abstract
In this thesis I theoretically study quantum states of ultracold atoms. The majority of the Chapters focus on engineering specific quantum states of single atoms with high fidelity in experimentally realistic systems. In the sixth Chapter, I investigate the stability and dynamics of new multidimensional solitonic states that can be created in inhomogeneous atomic Bose-Einstein condensates. In Chapter three I present two papers in which I demonstrate how the coherent tunnelling by adiabatic passage (CTAP) process can be implemented in an experimentally realistic atom chip system, to coherently transfer the centre-of-mass of a single atom between two spatially distinct magnetic waveguides. In these works I also utilise GPU (Graphics Processing Unit) computing which offers a significant performance increase in the numerical simulation of the Schrödinger equation. In Chapter four I investigate the CTAP process for a linear arrangement of radio frequency traps where the centre-of-mass of both, single atoms and clouds of interacting atoms, can be coherently controlled. In Chapter five I present a theoretical study of adiabatic radio frequency potentials where I use Floquet theory to more accurately model situations where frequencies are close and/or field amplitudes are large. I also show how one can create highly versatile 2D adiabatic radio frequency potentials using multiple radio frequency fields with arbitrary field orientation and demonstrate their utility by simulating the creation of ring vortex solitons. In the sixth Chapter I discuss the stability and dynamics of a family of multidimensional solitonic states created in harmonically confined Bose-Einstein condensates. I demonstrate that these solitonic states have interesting dynamical instabilities, where a continuous collapse and revival of the initial state occurs. Through Bogoliubov analysis, I determine the modes responsible for the observed instabilities of each solitonic state and also extract information related to the time at which instability can be observed.
Keywords
Physics
,
Quantum mechanics
,
Ultra cold quantum gases
Citation
Morgan, T. 2013. Techniques for engineering quantum states. PhD Thesis, University College Cork.