Towards a situation-awareness-driven design of operational business intelligence & analytics systems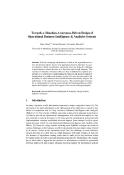 Abstract
With the swamping and timeliness of data in the organizational context, the decision maker's choice of an appropriate decision alternative in a given situation is defied. In particular, operational actors are facing the challenge to meet business-critical decisions in a short time and at high frequency. The construct of Situation Awareness (SA) has been established in cognitive psychology as a valid basis for understanding the behavior and decision making of human beings in complex and dynamic systems. SA gives decision makers the possibility to make informed, time-critical decisions and thereby improve the performance of the respective business process. This research paper leverages SA as starting point for a design science project for Operational Business Intelligence and Analytics systems and suggests a first version of design principles.
Keywords
Situation awareness
,
Design science
,
Operational business intelligence & analytics
Citation
NADJ, M., MORANA, S., MAEDCHE, A. 2015. Towards a situation-awareness-driven design of operational business intelligence & analytics systems. In: DONNELLAN, B., GLEASURE, R., HELFERT, M., KENNEALLY, J., ROTHENBERGER, M., CHIARINI TREMBLAY, M., VANDERMEER, D. & WINTER, R. (eds.) At the Vanguard of Design Science: First Impressions and Early Findings from Ongoing Research Research-in-Progress Papers and Poster Presentations from the 10th International Conference, DESRIST 2015. Dublin, Ireland, 20-22 May. pp. 33-40.
Copyright
©2015, The Author(s).