Problems with drawing lines: Theo-geographies of the Catholic parish in Ireland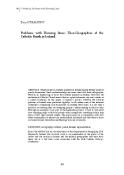 Files
Publisher
ISASR in association with the Study of Religions, University College Cork.
Abstract
While people in Catholic parishes in Ireland appear keenly aware of parish boundaries, these understandings are more often oral than cartographic. There is no digital map of all of the Catholic parishes in Ireland. However, the institutional Catholic Church insists that no square kilometre can exist outside of a parish boundary. In this paper, I explain a process whereby the Catholic parishes of Ireland were produced digitally. I will outline some of the technical challenges of digitizing such boundaries. In making these maps, it is not only a question of drawing lines but mapping people's understanding of their locality. Through an example of one part of the digitisation project, I want to talk about how verifying maps with local people often complicates something which may have at first sight seemed simple. The paper ends on a comparison with how other communities of interest are territorialised in Ireland and elsewhere to draw out some broader theoretical and theological issues of concern.
Keywords
Cartography
,
Catholic
,
Parish
,
Ireland
,
Representation
Citation
O'MAHONY, E. 2014. Problems with drawing lines: Theo-geographies of the Catholic parish in Ireland. Journal of the Irish Society for the Academic Study of Religions, 1(1), 48-65.
Copyright
©2014, The Author(s).