Learning from minority: Exploring Irish Protestant experience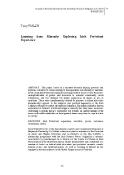 Files
Publisher
ISASR in association with the Study of Religions, University College Cork
Abstract
This paper, based on a narrative research inquiry, presents and explores a number of stories relating to the experience and identity of members of the small Irish Protestant minority. Drawing on these stories it uses Foucault's conceptualisation of power and discourse to consider community, social withdrawal, and two different but linked expressions of silence as acts of resistance. These were simultaneously utilised to preserve a culture and ethos diametrically opposed to the religious and political hegemony of the Irish Catholic state and to combat the threat of extinction. The article concludes that an exploration of Ireland's traditional religious minority not only raises awareness concerning a specific group's experience but extends an understanding of the issues with which minorities (in more general terms) may have to cope in order to survive.
Keywords
Irish Protestant experience
,
Narrative
,
Power
,
Resistance
,
Community
,
Silence
Citation
WALSH, T. 2015. Learning from minority: Exploring Irish Protestant experience. Journal of the Irish Society for the Academic Study of Religions, 2(1), 73-93.
Copyright
©2015, The Author(s).