Foundations of a socio-cultural perspective on teacher performance assessment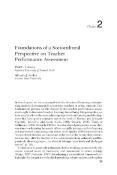 Files
Abstract
In this chapter, we are concerned with the theories of learning underpinning models of assessment for preservice teachers in urban contexts. One fundamental premise in this chapter is that teacher performance assessment ought to document teacher learning. In outlining this perspective, we draw specifically on the sociocultural perspectives on learning and development that have grown primarily out of the work of Russian psychologists Vygotsky, Leont'ev, and Luria.
Keywords
Education
,
Pedagogy
,
Teacher Education
,
Teacher performance assessment
,
Teaching
Citation
CONWAY, P. F. & ARTILES, A. J. 2005. Foundations of a Sociocultural Perspective on Teacher Performance Assessment. In: PETERMAN, F. P. (ed.) Designing Performance Assessment Systems for Urban Teacher Preparation. New York: Routledge.