Please note that Appendix A & B are currently unavailable due to a restriction requested by the author.. Restriction lift date: 10000-01-01
Functional genomics of motile commensal intestinal bacteria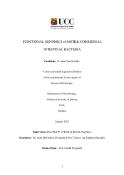 Files
Abstract
Flagella confer upon bacteria the ability to move and are therefore organelles of significant bacteriological importance. The innate immune system has evolved to recognise flagellin, (the major protein component of the bacterial flagellar filament). Flagellate microbes can potentially stimulate the immune systems of mammals, and thus have significant immunomodulatory potential. The flagellum-biogenesis genotype and phenotype of Lactobacillus ruminis, an autochthonous intestinal commensal, was studied. The flagellum-biogenesis genotypes of motile enteric Eubacterium and Roseburia species were also investigated. Flagellin proteins were recovered from these commensal species, their amino-termini were sequenced and the proteins were found to be pro-inflammatory, as assessed by measurement of interleukin-8 (IL-8) secretion from human intestinal epithelial cell lines. For L. ruminis, this IL-8 secretion required signalling through Toll Like Receptor 5. A model for the regulation of flagellum-biogenesis in L. ruminis was inferred from transcriptomics data and bioinformatics analyses. Motility gene expression in this species may be under the control of a novel regulator, LRC_15730. Potential promoters for genes encoding flagellin proteins in the Eubacterium and Roseburia genomes analysed were inferred in silico. Relative abundances of the target Eubacterium and Roseburia species in the intestinal microbiota of 25 elderly individuals were determined. These species were found to be variably abundant in these individuals. Motility genes from these species were variably detected in the shotgun metagenome databases generated by the ELDERMET project. This suggested that a greater depth of sequencing, or improved evenness of sequencing, would be required to capture the full diversity of microbial functions for specific target or low abundance species in microbial communities by metagenomics. In summary, this thesis used a functional genomics approach to describe flagellum-mediated motility in selected Gram-positive commensal bacteria. The regulation of flagellum biosynthesis in these species, and the consequences of flagella expression from a host-interaction perspective were also considered.
Keywords
Bacterial motility
,
Flagellin
,
Flagellum biogenesis
,
Pro-inflammatory response
,
Eubacterium
,
Roseburia
,
Lactobacillus
Citation
Neville, B. A. 2013. Functional genomics of motile commensal intestinal bacteria. PhD Thesis, University College Cork.