Participation by place-based community organisations in local development: case studies from East Cork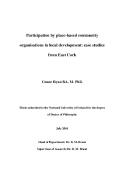 Files
Abstract
The past two decades have witnessed concerted efforts by theorists and policy-makers to place civil society at the centre of social, economic and environmental development processes. To this end, policies grounded in a Third Way approach have sought to forge stronger linkages between the state and voluntary community-based organisations. Concepts such as active citizenship, social capital, partnership and sustainability have underpinned this political philosophy, which reflects a movement in development theory and political science away from notions of state-led development and unfettered neo-liberalism. In the Irish context, a series of initiatives have given expression to this new policy agenda, the foremost amongst them the publication of a White Paper in 2000. New local governance structures and development schemes have multiplied since the early 1990s, while the physical planning system has also been modified. All this has taken place against the backdrop of unprecedented economic development and social change precipitated by the 'Celtic Tiger'.This thesis examines the interaction between community organisations, state institutions and other actors in development processes in East Cork. It focuses upon place-based community organisations, who seek to represent the interests of their particular localities. A case study approach is employed to explore the realpolitik of local development and to gauge the extent to which grassroots community organisations wield influence in determining the development of their communities. The study concludes that the transfer of decision-making power to community organisations has been more illusory than real and that, in practical terms, such groups remain marginal in the circuits of power. However, the situation of community organisations operating in different geographical locales cannot be reduced to an overarching theoretical logic. The case studies show that the modus operandi of community groups varies considerably and can be influenced by specific local geographies, events and personalities.
Keywords
Local governance
,
Participatory development
,
East Cork
Citation
Ryan, C.J., 2010. Participation by place-based community organisations in local development: case studies from East Cork. PhD Thesis, University College Cork.