A methodology and trial implementation for digitising information on a factory floor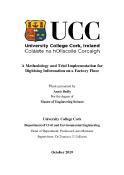 Files
Abstract
In recent years manufacturing industries have moved towards Smart Manufacturing, to achieve improved efficiency and production targets. Part of this innovation of current processes includes digitisation and improving access to machine information, usually through the introduction of new technology to assist with this transition. In order to maintain smooth processes and uninterrupted production, various information sources must be available on the factory floor. This project aims to provide a proof of concept for digitisation and access to necessary information during Pulse Walks. The methodology used to develop this tool is discussed. Observations during Pulse Walks were used to highlight the areas that this could be applied to, and a survey was used to determine the most useful information sources to include. Another aspect of this project is to introduce a method of digitally storing issues discussed during the Pulse Walk, to highlight recurring issues and problematic areas. This was developed to be used as part of the tool during Pulse Walks. This research will present a proof of concept for an app that will act as a digital information hub for accessing information and logging issues from the Pulse Walks. The use cases for this tool have been deliberated and the benefits clearly identified. This tool can assist with tracking recurring issues, using previously logged issues to create a historical database. The issue logging dashboard can be used for investigating reasons for machine downtime. This tool aims to improve production efficiency for a manufacturing line in a factory through issue tracking.
Keywords
Digitisation
,
Smart manufacturing
,
Knowledge management
,
Industry 4.0
,
Energy efficiency
Citation
Duffy, A. 2019. A methodology and trial implementation for digitising information on a factory floor. MRes Thesis, University College Cork.