Isolation and characterisation of antifungal compounds from lactic acid bacteria and their application in wheat and gluten-free bread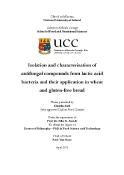 Files
Abstract
As part of the "free-from" trend, biopreservation for bread products has increasingly become important to prevent spoilage since artificial preservatives are more and more rejected by consumers. A literature review conducted as part of this thesis revealed that the evaluation of more suitable antifungal strains of lactic acid bacteria (LAB) is important. Moreover, increasing the knowledge about the origin of the antifungal effect is fundamental for further enhancement of biopreservation. This thesis addresses the investigation of Lactobacillus amylovorus DSM19280, Lb. brevis R2: and Lb. reuteri R29 for biopreservation using in vitro trials and in situ sourdough fermentations of quinoa, rice and wheat flours as biopreservatives in breads. Their contribution to quality and shelf life extension on bread was compared and related to their metabolic activity and substrate features. Moreover, the quantity of antifungal carboxylic acids produced during sourdough fermentation was analysed. Overall a specific profile of antifungal compounds was found in the sourdough samples which were strain and substrate dependently different. The best preservative effect in quinoa sourdough and wheat sourdough bread was achieved when Lb. amylovorus DSM19280 fermented sourdough was used. However, the concentration of the antifungal compounds found in these biopreservatives were much lower when compared with Lb. reuteri R29 as the highest producer. Nevertheless, the artificial application of the highest concentration of these antifungal compounds in chemically acidified wheat sourdough bread succeeded in a longer shelf life than achieved only by acidifying the dough. This evidences their partial contribution to the antifungal activity and their synergy. Additionally, a HRGC/MS method for the identification and quantification of the antifungal active compounds cyclo(Leu-Pro), cyclo(Pro-Pro), cyclo(Met-Pro) and cyclo(Phe-Pro) was successfully developed by using stable isotope dilutions assays with the deuterated counterparts. It was observed that the concentrations of cyclo(Leu-Pro), cyclo(Pro-Pro), and cyclo(Phe-Pro) increased only moderately in MRS-broth and wort fermentation by the activity of the selected microorganism, whereas the concentration of cyclo(Met-Pro) stayed unchanged.
Keywords
Lactic acid bacteria
,
Antifungal activity
,
Bakery products
,
Cereal fermentation
,
Food safety
,
Carboxylic acids
,
Cyclic dipeptides
Citation
Axel, C. 2015. Isolation and characterisation of antifungal compounds from lactic acid bacteria and their application in wheat and gluten-free bread. PhD Thesis, University College Cork.