An Australian local diagnostic reference level for paediatric whole-body 18F-FDG PeT/CT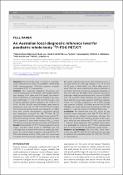 Files
Publisher
British Institute of Radiology
Abstract
objective: The aim of this study is to report a local diagnostic reference level (DRL) for paediatric whole-body (WB) fludeoxyglucose (18F-FDG) positron emission tomography (PET) CT examinations. methods: The Australian Radiation Protection and Nuclear Safety Agency (ARPANSA) national DRL (NDRL) age category (0-4 years and 5-14 years), the International Commission on Radiological Protection age category (ICRP age) (<1, >1-5, >5-10, and >10-15 years), and European guideline weight category (EG weight) (<5, 5-<15, 15-<30, 30-<50, and 50-<80 kg) were used to determine a local DRL for WB 18F FDG PET/CT studies. Two-structured questionnaires were designed to collect dose data, patient demographics, equipment details, and acquisition protocols for WB 18F-FDG PET/CT procedures. The local DRL was based on the median 18F-FDG administered activity (MBq), dose-length product (DLP), and the CT dose index volume (CTDIvol), values. The effective dose (E) was also calculated and reported. results: The local DRLs for 18F-FDG administered activity, CTDIvol and DLP values based on ARPANSA age and ICRP age were increased from lower to higher age categories. For the EG weight category, the local DRL for 18F-FDG administered activity, CTDIvol and DLP values were increased from the low EG weight category to the high EG weight category. The mean administered activity in our study based on ICRP age category >1-5, >5-10, and >10-15 years is 79.97, 119.40, and 176.04 MBq, which is lower than the mean administered activity reported in the North American Consensus guideline published in 2010 (99, 166, and 286 MBq) and European Association of Nuclear Medicine and Dosage Card (version 1.5.2008) (120, 189, and 302 MBq). However, the mean administered activity in our study based on ICRP age category <1 year was 55 MBq compared to the EANM Dosage card (version 1.5.2008) (70 MBq) and the NACG 2010 (51 MBq). Our study shows that the finding for ICRP age category <1 year was similar to the NACG 2010 value. Conclusion: The determined local DRL values for the radiation doses associated with WB 18F FDG PET/CT examinations are differed considerably between the ARPANSA and ICRP age category and EG weight category. Although, the determined 18F-FDG value for ICRP < 1 year is in good agreement with available publish data, it is preferable to optimise the 18F-FDG administered activity while preserving the diagnostic image quality. advances in knowledge: The local DRL value determined from WB 18F-FDG PET/CT examinations may help to establish the ARPANSA NDRL for WB FDG 18F-PET/ CT examinations. © 2019 The Authors. Published by the British Institute of Radiology
Keywords
Australia
,
Local diagnostic reference level
,
Paediatric whole-body 18F-FDG PeT/CT
Citation
Alkhybari, E. M., McEntee, M. F., Willowson, K. P., Brennan, P. C., Kitsos, T. and Kench, P. L. (2019) 'An Australian local diagnostic reference level for paediatric whole-body 18F-FDG PET/CT', British Journal of Radiology, 92(1096), 20180879 (8pp). doi: 10.1259/bjr.20180879
Copyright
© 2019, the Authors. Published by the British Institute of Radiology.