Inclusive education policy, the general allocation model and dilemmas of practice in primary schools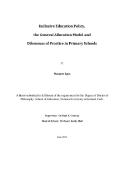 Files
Abstract
Background: Inclusive education is central to contemporary discourse internationally reflecting societies' wider commitment to social inclusion. Education has witnessed transforming approaches that have created differing distributions of power, resource allocation and accountability. Multiple actors are being forced to consider changes to how key services and supports are organised. This research constitutes a case study situated within this broader social service dilemma of how to distribute finite resources equitably to meet individual need, while advancing inclusion. It focuses on the national directive with regard to inclusive educational practice for primary schools, Department of Education and Science Special Education Circular 02/05, which introduced the General Allocation Model (GAM) within the legislative context of the Education of Persons with Special Educational Needs (EPSEN) Act (Government of Ireland, 2004). This research could help to inform policy with 'facts about what is happening on the ground' (Quinn, 2013). Research Aims: The research set out to unearth the assumptions and definitions embedded within the policy document, to analyse how those who are at the coalface of policy, and who interface with multiple interests in primary schools, understand the GAM and respond to it, and to investigate its effects on students and their education. It examines student outcomes in the primary schools where the GAM was investigated. Methods and Sample The post-structural study acknowledges the importance of policy analysis which explicitly links the 'bigger worlds' of global and national policy contexts to the 'smaller worlds' of policies and practices within schools and classrooms. This study insists upon taking the detail seriously (Ozga, 1990). A mixed methods approach to data collection and analysis is applied. In order to secure the perspectives of key stakeholders, semi-structured interviews were conducted with primary school principals, class teachers and learning support/resource teachers (n=14) in three distinct mainstream, non-DEIS schools. Data from the schools and their environs provided a profile of students. The researcher then used the Pobal Maps Facility (available at www.pobal.ie) to identify the Small Area (SA) in which each student resides, and to assign values to each address based on the Pobal HP Deprivation Index (Haase and Pratschke, 2012). Analysis of the datasets, guided by the conceptual framework of the policy cycle (Ball, 1994), revealed a number of significant themes. Results: Data illustrate that the main model to support student need is withdrawal from the classroom under policy that espouses inclusion. Quantitative data, in particular, highlighted an association between segregated practice and lower socioeconomic status (LSES) backgrounds of students. Up to 83% of the students in special education programmes are from lower socio-economic status (LSES) backgrounds. In some schools 94% of students from LSES backgrounds are withdrawn from classrooms daily for special education. While the internal processes of schooling are not solely to blame for class inequalities, this study reveals the power of professionals to order children in school, which has implications for segregated special education practice. Such agency on the part of key actors in the context of practice relates to 'local constructions of dis/ability', which is influenced by teacher habitus (Bourdieu, 1984). The researcher contends that inclusive education has not resulted in positive outcomes for students from LSES backgrounds because it is built on faulty assumptions that focus on a psycho-medical perspective of dis/ability, that is, placement decisions do not consider the intersectionality of dis/ability with class or culture. This study argues that the student need for support is better understood as 'home/school discontinuity' not 'disability'. Moreover, the study unearths the power of some parents to use social and cultural capital to ensure eligibility to enhanced resources. Therefore, a hierarchical system has developed in mainstream schools as a result of funding models to support need in inclusive settings. Furthermore, all schools in the study are 'ordinary' schools yet participants acknowledged that some schools are more 'advantaged', which may suggest that 'ordinary' schools serve to 'bury class' (Reay, 2010) as a key marker in allocating resources. The research suggests that general allocation models of funding to meet the needs of students demands a systematic approach grounded in reallocating funds from where they have less benefit to where they have more. The calculation of the composite Haase Value in respect of the student cohort in receipt of special education support adopted for this study could be usefully applied at a national level to ensure that the greatest level of support is targeted at greatest need. Conclusion: In summary, the study reveals that existing structures constrain and enable agents, whose interactions produce intended and unintended consequences. The study suggests that policy should be viewed as a continuous and evolving cycle (Ball, 1994) where actors in each of the social contexts have a shared responsibility in the evolution of education that is equitable, excellent and inclusive.
Keywords
Inclusion
,
Policy
,
Special education
,
Deficit thinking
,
Disproportionality in special education
,
Educational disadvantage
,
General allocation model
,
Pobal HP deprivation index
Citation
Egan, M. 2013. Inclusive education policy, the general allocation model and dilemmas of practice in primary schools. PhD Thesis, University College Cork.