The effectiveness of using patient-reported outcome measures as quality improvement tools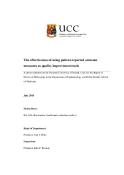 Files
Abstract
Aim: To investigate the value of using PROMs as quality improvement tools. Methods: Two systematic reviews were undertaken. The first reviewed the quantitative literature on the impact of PROMs feedback and the second reviewed the qualitative literature on the use of PROMs in practice. These reviews informed the focus of the primary research. A cluster randomised controlled trial (PROFILE) examined the impact of providing peer benchmarked PROMs feedback to consultant orthopaedic surgeons on improving outcomes for hip replacement surgery. Qualitative interviews with surgeons in the intervention arm of the trial examined the view of and reactions to the feedback. Results: The quantitative review of 17 studies found weak evidence to suggest that providing PROMs feedback to professionals improves patient outcomes. The qualitative review of 16 studies identified the barriers and facilitators to the use of PROMs based on four themes: practical considerations, attitudes towards the data, methodological concerns and the impact of feedback on care. The PROFILE trial included 11 surgeons and 215 patients in the intervention arm, and 10 surgeons and 217 patients in the control arm. The trial found no significant difference in the Oxford Hip Score between the arms (-0.7, 95% CI -1.9-0.5, p=0.2). Interviews with surgeons revealed mixed opinions about the value of the PROMs feedback and the information did not promote explicit changes to their practice. Conclusion: It is important to use PROMs which have been validated for the specific purpose of performance measurement, consult with professionals when developing a PROMs feedback intervention, communicate with professionals about the objectives of the data collection, educate professionals on the properties and interpretation of the data, and support professionals in using the information to improve care. It is also imperative that the burden of data collection and dissemination of the information is minimised.
Keywords
Outcome assessment
,
Quality improvement
,
Patient-reported outcome measures
,
Behavioural change
,
Health services research
Citation
Boyce, M. 2014. The effectiveness of using patient-reported outcome measures as quality improvement tools. PhD Thesis, University College Cork.