Shipping information pipeline: initial design principles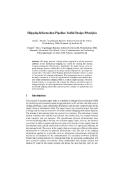 Abstract
This paper presents a design science approach to solving persistent problems in the international shipping eco system by creating the missing common information infrastructures. Specifically, this paper reports on an ongoing dialogue between stakeholders in the shipping industry and information systems researchers engaged in the design and development of a prototype for an innovative IT-artifact called Shipping Information Pipeline which is a kind of "an internet" for shipping information. The instrumental aim is to enable information seamlessly to cross the organizational boundaries and national borders within international shipping which is a rather complex domain. The intellectual objective is to generate and evaluate the efficacy and effectiveness of design principles for inter-organizational information infrastructures in the international shipping domain that can have positive impacts on global trade and local economies.
Keywords
International shipping information infrastructure
Citation
JENSEN, T. & VATRUPI, R. 2015. Shipping information pipeline: initial design principles. In: DONNELLAN, B., GLEASURE, R., HELFERT, M., KENNEALLY, J., ROTHENBERGER, M., CHIARINI TREMBLAY, M., VANDERMEER, D. & WINTER, R. (eds.) At the Vanguard of Design Science: First Impressions and Early Findings from Ongoing Research Research-in-Progress Papers and Poster Presentations from the 10th International Conference, DESRIST 2015. Dublin, Ireland, 20-22 May. pp. 17-24
Copyright
©2015, The Author(s).