'Deor and nytenu mid us': animals in the works of Ǽelfric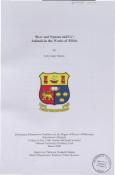 Files
Abstract
This dissertation examines the use of animals in Ælfric's Lives of Saints and Catholic Homilies, outlining the transmission process of various sources of animal knowledge available to and used by Ælfric. The contexts in which Ælfric uses animals, which sources he uses in these passages and how he deviates from his source material (if at all) combine to illustrate how Anglo-Saxon authors could weave classical, biblical, early Christian and local knowledge together and incorporate the different traditions in their own work.
Keywords
Anglo-Saxon literature
,
Animals in literature
Citation
Nijhuis, L. J. 2008.'Deor and nytenu mid us': animals in the works of Ǽelfric. PhD Thesis, University College Cork.