The impact of whey protein isolate on energy balance regulation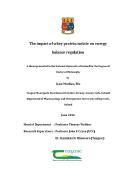 Files
Abstract
Using C57BL/6J mice fed whey protein isolate (WPI) enriched high fat (HFD) or low-fat diets (LFD), this study tested the hypothesis that WPI directly impacts on adiposity by influencing lipid metabolism. WPI suppressed HFD-induced body fat and increased lean mass at 8 weeks of dietary challenge despite elevated plasma triacylglycerol (TAG) levels, suggesting reduced TAG storage. WPI reduced HFD-associated hypothalamic leptin and insulin receptor (IR) mRNA expression, and prevented HFD-associated reductions in adipose tissue IR and glucose transporter 4 expression. These effects were largely absent at 21 weeks of HFD feeding, however WPI increased lean mass and cause a trend towards decreased fat mass, with notable increased Lactobacillus and decreased Clostridium gut bacterial species. Increasing the protein to carbohydrate ratio enhanced the above effects, and shifted the gut microbiota composition away from the HFD group. Seven weeks of WPI intake with a LFD decreased insulin signalling gene expression in the adipose tissue in association with an increased fat accumulation. WPI reduced intestinal weight and length, suggesting a potential functional relationship between WPI, gastro-intestinal morphology and insulin related signalling in the adipose. Extending the study to 15 weeks, did not affect adipose fat weight, but decreased energy intake, weight gain and intestinal length. The functionality of protein sensing lysophosphatidic acid receptor 5 (LPA5) in 3T3-L1 pre-adipocytes was assessed. Over-expression of the receptor in 3T3-L1 pre-adipocytes provided a growth advantage to the cells and suppressed cellular differentiation into mature fat cells. In conclusion, the data demonstrates WPI impacts on adiposity by influencing lipid metabolism in a temporal manner, resulting possibly due to changes in lean mass, hypothalamic and adipose gene expression, gut microbiota and gastrointestinal morphology. The data also showed LPA5 is a novel candidate in regulating of preadipocyte growth and differentiation, and may mediate dietary protein effects on adipose tissue.
Keywords
Whey protein isolate
,
Adiposity
,
Obesity
,
Mice
,
Lipid metabolism
,
Energy balance
,
Gene expression
Citation
McAllan, L. 2014. The impact of whey protein isolate on energy balance regulation. PhD Thesis, University College Cork.