Economic analysis of a multicentre study of pharmacist-led person-centred medicines reviews in general practice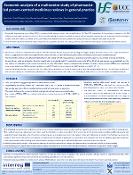 Files
Abstract
Potentially inappropriate prescribing (PIP) is associated with adverse events and hospitalisations (1). Total PIP expenditure in Ireland was estimated to be €46 million in those aged ≥70 years in 2007 (2). The EU-funded iSIMPATHY project provided an opportunity to integrate pharmacists into 10 general practice settings in border counties in Ireland, to deliver a structured medicines review service with patients with polypharmacy (≥10 regular medicines) and/or PIP. Little is known about the economic impact of pharmacists in general practice. This study aimed to assess the economic impact of this medicines review service.
Keywords
Pharmacists integrated into general practice settings
,
Person-centred medicines review
,
Potentially inappropriate prescribing (PIP)
Citation
Kirke, C., O'Mahony, C., Murphy, K., O'Hagan, L., Coyle, E. J., Kinahan, C. and Dalton, K. (2023) 'Economic analysis of a multicentre study of pharmacist-led person-centred medicines reviews in general practice', National Patient Safety Office Conference 2023, Dublin, 19 October.
Copyright
© 2023, the Authors.