Please note that the Introduction (pp.1-42) and Chapters 2 & 3 (pp.106-231) are currently unavailable due to a restriction requested by the author.. Restriction lift date: 10000-01-01
History, revolution and the British popular novel: historical fiction in the romantic age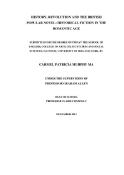 Files
Abstract
"History, Revolution and the British Popular Novel" takes as its focus the significant role which historical fiction played within the French Revolution debate and its aftermath. Examining the complex intersection of the genre with the political and historical dialogue generated by the French Revolution crisis, the thesis contends that contemporary fascination with the historical episode of the Revolution, and the fundamental importance of history to the disputes which raged about questions of tradition and change, and the meaning of the British national past, led to the emergence of increasingly complex forms of fictional historical narrative during the "war of ideas." Considering the varying ways in which novelists such as Charlotte Smith, William Godwin, Mary Robinson, Helen Craik, Clara Reeve, John Moore, Edward Sayer, Mary Charlton, Ann Thomas, George Walker and Jane West engaged with the historical contexts of the Revolution debate, my discussion juxtaposes the manner in which English Jacobin novelists inserted the radical critique of the Jacobin novel into the wider arena of history with anti-Jacobin deployments of the historical to combat the revolutionary threat and internal moves for socio-political restructuring. I argue that the use of imaginative historical narrative to contribute to the ongoing dialogue surrounding the Revolution, and offer political and historical guidance to readers, represented a significant element within the literature of the Revolution crisis. The thesis also identifies the diverse body of historical fiction which materialised amidst the Revolution controversy as a key context within which to understand the emergence of Scott's national historical novel in 1814, and the broader field of historical fiction in the era of Waterloo. Tracing the continued engagement with revolutionary and political concerns evident in the early Waverley novels, Frances Burney's The Wanderer (1814), William Godwin's Mandeville (1816), and Mary Shelley's Valperga (1823), my discussion concludes by arguing that Godwin's and Shelley's extension of the mode of historical fiction initially envisioned by Godwin in the revolutionary decade, and their shared endeavour to retrieve the possibility enshrined within the republican past, appeared as a significant counter to the model of history and fiction developed by Walter Scott in the post-revolutionary epoch.
Keywords
French revolution debate
,
Romantic fiction
,
Genre
,
Political literature (Jacobin / Anit-Jacobin)
Citation
Murphy, C. M. 2013. History, revolution and the British popular novel: historical fiction in the romantic age. PhD Thesis, University College Cork.