The changing face of pre-school services: a case study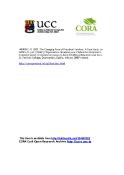 Files
Abstract
There have been major changes in pre-school provision in Ireland in the last ten years. This paper will present a snap-shot of how these changes have impacted on one community pre-school located in a high-priority area of Cork and the consequent effects on the quality of the service provided. The factors influencing its development include the introduction of the Preschool regulations under Section VII of the Child Care Act 1991, the capital and staffing grants it has received, and the changes in the population it serves. The paper also documents how the introduction of the High/Scope curriculum, coupled with an on-going commitment to improving the quality of service, has influenced practice in the pre-school.
Keywords
High/Scope Preschool Curriculum
,
Plan-Do-Review
,
Preschool
Citation
MURPHY, R. 2005. The Changing Face of Preschool Services: A Case Study.In: HAYES, N. (ed.) OMEP (l'Organisation Mondiale pour l'Education Préscolaire Ireland) Ireland: Contemporary Issues in Early Childhood Education and Care. St. Patrick's College, Drumcondra, Dublin, Ireland:OMEP Ireland.