Practice-based personas: integrated user and practice models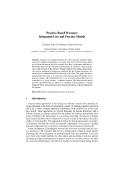 Abstract
Practices are routinised behaviours with social and material components and complex relationships over space and time. Practice-based design goes beyond interaction design to consider how these components and their relationships impact on the formation and enactment of a practice, where technology is just one part of the practice. Though situated user-centred design methods such as participatory design are employed for the design of practice, demand exists for additional methods and tools in this area. This paper introduces practice-based personas as an extension of the persona approach popular in interaction design, and demonstrates how a set of practice-based personas was developed for a given domain – academic practice. The three practice-based personas developed here are linked to a catalogue of forty practices, offering designers both a user perspective and a practice perspective when designing for the domain.
Keywords
Practice-oriented design
,
Practices
,
Personas
Citation
O'LEARY, C., MTENZI, F., MCAVINIA, C. 2015. Practice-based personas: integrated user and practice models. In: DONNELLAN, B., GLEASURE, R., HELFERT, M., KENNEALLY, J., ROTHENBERGER, M., CHIARINI TREMBLAY, M., VANDERMEER, D. & WINTER, R. (eds.) At the Vanguard of Design Science: First Impressions and Early Findings from Ongoing Research Research-in-Progress Papers and Poster Presentations from the 10th International Conference, DESRIST 2015. Dublin, Ireland, 20-22 May. pp. 93-100
Copyright
©2015, The Author(s).