Auditory perception and auditory imagination in the late plays of Marguerite Duras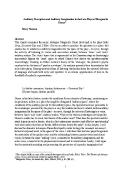 Files
Abstract
This chapter examines the scenic strategies Marguerite Duras developed in the plays India Song, Savannah Bay and L'Éden Cinéma in order to position the spectator in a place that enables her to inhabit her auditory imagination for the space of the play – to move, through the activity of listening to voices and non-verbal sounds, between 'inner' and 'outer' auditory realms. The 'outer' space that is represented on the Durassian stage as frustratingly inaccessible figures the 'inner' space to which Duras's text directs the spectator-auditor unremittingly. Drawing on Didier Anzieu's theory of the 'skin-ego', the primitive psyche constructed on the basis of 'psychic envelopes', the analysis presented here demonstrates that in her later plays, Duras generates a form of listening that breaks down the univocal defences of language and leads both actor and spectator to an intense apprehension of loss on the threshold of symbolic representation.
Keywords
Marguerite Duras
,
India Song
,
Savannah Bay
,
L'Éden Cinéma
,
Auditory imagination
Citation
Noonan, M. (2018) 'Auditory perception and auditory imagination in the late plays of Marguerite Duras', in Noonan, M. and Pagès-Pindon, J. (eds.) Marguerite Duras: Un théâtre de voix / A theatre of voices, pp. 21-39. Leiden: Brill Rodopi. doi: 10.1163/9789004368743_003
Copyright
© 2018, Koninklijke Brill NV, Leiden, The Netherlands. All rights reserved. No part of this publication may be reproduced, translated, stored in a retrieval system, or transmitted in any form or by any means, electronic, mechanical, photocopying, recording or otherwise, without prior written permission from the publisher.