Identification of open cracks using wavelet analysis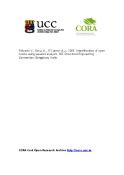 Abstract
Damage detection in flexural members by wavelet analysis involves certain important factors such as the choice of wavelet function, the effects of windowing and the effects of masking due to the presence of noise during measurement. A numerical study has been performed in this paper addressing these issues for a beam element with an open crack. The first natural modeshape of a beam with an open crack has been simulated. Gaussian white noise has been synthetically introduced to the simulated modeshape and the onset of masking has been studied. A wavelet based method of damage detection can be useful in the identification of damaged bridge structures and is applicable under the presence of measurement noise as well.
Keywords
Signal to noise ratio
,
Open crack
,
Damage detection
,
Windowing
,
Masking
Citation
Pakrashi V., Basu, B., O'Connor A.J., 2005. Identification of open cracks using wavelet analysis. IISC Structural Engineering Convention. Bangalore, India.