The quality of deliberation in Northern Ireland's district policing partnerships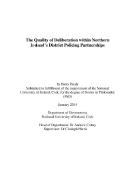 Files
Abstract
This study uses theoretical based deliberative democratic dimensions to measure the deliberative quality of Northern Ireland's District Policing Partnership (DPP) meetings in public. The study combines Habermasian, and Young's deliberative concepts to create an Augmented Discourse Quality Index. This Augmented DQI is employed by this research as am empirical instrument to establish the true deliberative nature of these DPP meetings in public. The overall goal of this study is two-fold. First; to gain an in-depth understanding of Northern Ireland's DPPs in relation to deliberative democratic theory, specifically regarding how these policing/public partnerships stand up under a deliberative democratic lens. The second goal is to provide a possible framework by which deliberative quality can be more accurately measured. In that frameworks which are designed to measure deliberative quality should include not only the dimensions for rational participation, but also include broader terms of communication such as greeting, rhetoric and story-telling.
Keywords
Policing
,
Northern Ireland
,
Deliberative democracy
,
Modes of expression
,
Quality of deliberation
Citation
Healy, B. 2014. The quality of deliberation in Northern Ireland's district policing partnerships. PhD Thesis, University College Cork.