Soft sediment ecology of Lough Hyne Marine Reserve - spatial and temporal patterns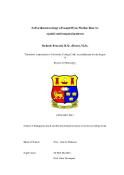 Files
Abstract
Distribution of soft sediment benthic fauna and the environmental factors affecting them were studied, to investigate changes across spatial and temporal scales. Investigations took place at Lough Hyne Marine Reserve using a range of methods. Data on the sedimentation rates of organic and inorganic matter were collected at monthly intervals for one year at a number of sites around the Lough, by use of vertical midwater-column sediment traps. Sedimentation of these two fractions were not coupled; inorganic matter sedimentation depended on hydrodynamic and weather factors, while the organic matter sedimentation was more complex, being dependent on biological and chemical processes in the water column. The effects of regular hypoxic episodes on benthic fauna due to a natural seasonal thermocline were studied in the deep Western Trough, using camera-equipped remotely-operated vehicle to follow transects, on a three-monthly basis over one year. In late summer, the area below the thermocline of the Western Trough was devoid of visible fauna. Decapod crustaceans were the first taxon to make use of ameliorating oxygen conditions in autumn, by darting below the thermocline depth, most likely to scavenge. This was indicated by tracks that they left on the surface of the Trough floor. Some species, most noticeably Fries' goby Lesueurigobius friesii, migrated below the thermocline depth when conditions were normoxic and established semi-permanent burrows. Their population encompassed all size classes, indicating that this habitat was not limited to juveniles of this territorial species. Recolonisation by macrofauna and burrowing megafauna was studied during normoxic conditions, from November 2009 to May 2010. Macrofauna displayed a typical post-disturbance pattern of recolonisation with one species, the polychaete Scalibregma inflatum, occurring at high abundance levels in March 2010. In May, this population had become significantly reduced and a more diverse community was established. The abundance of burrowing infauna comprising decapods crabs and Fries' gobies, was estimated by identifying and counting their distinctive burrow structures. While above the summer thermocline depth, burrow abundance increased in a linear fashion, below the thermocline depth a slight reduction of burrow abundance occurred in May, when oxygen conditions deteriorated again. The majority of the burrows occurring in May were made by Fries' gobies, which are thought to encounter low oxygen concentrations in their burrows. Reduction in burrow abundance of burrowing shrimps Calocaris macandreae and Callianassa subterranea (based on descriptions of burrow structures from the literature), from March to May, might be related to their reduced activity in hypoxia, leading to loss of structural burrow maintenance. Spatial and temporal changes to macrofaunal assemblage structures were studied seasonally for one year across 5 sites in the Lough and subject to multivariate statistical analysis. Assemblage structures were significantly correlated with organic matter levels in the sediment, the amounts of organic matter settling out of the water column one month before macrofaunal sampling took place as well as current speed and temperature. This study was the first to investigate patterns and processes in the Lough soft sediment ecology across all 3 basins on a temporal and spatial scale. An investigation into the oceanographic aspects of the development, behaviour and break-down of the summer thermocline of Lough Hyne was performed in collaboration with researchers from other Irish institutions.
Keywords
Soft sediment ecology
,
Hypoxia
,
Macrofaunal migration
,
Lough Hyne
,
Benthic fauna
,
Thermocline
,
Normoxic conditions
,
Sedimentation rate
Citation
Broszeit, S. 2013. Soft sediment ecology of Lough Hyne Marine Reserve - spatial and temporal patterns. PhD Thesis, University College Cork.