High Crosses, the sun's course, and local theologies at Kells and Monasterboice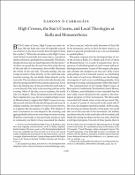 Files
Publisher
Penn State University Press
Keywords
High Crosses
,
Medieval art history
,
Anglo-Saxon art
,
Insular art
,
Bewcastle Cross
,
Kells, Market Cross
,
Monasterboice
,
Iconography
,
Ireland
Citation
Ó Carragáin, É (2011) 'High Crosses, the Sun's Course, and Local Theologies at Kells and Monasterboice', in Hourihane, C. (ed)., Insular and Anglo-Saxon Art and Thought in the Early Medieval Period, Index of Christian Art, Occasional Papers, XIII, Princeton University with Penn State University Press, pp. 149-173. isbn: 978-0-9837537-0-4
Copyright
© 2011 by the trustees of Princeton University, In the Nations Service and the Service of all Nations. Distributed by Pennsylvania State University Press. All rights reserved.