Experiences and desires of people with tetraplegia living with and without electronic aids to daily living: an Irish focus group study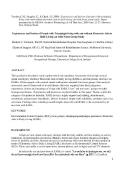 Files
Abstract
This qualitative descriptive study explores the lived experience for persons with a high cervical spinal cord injury who have Electronic Aids to Daily Living (EADLs), and for persons who have no EADLs. Fifteen people with cervical spinal cord injuries attended four focus groups. Data analysis uncovered a novel framework of several themes that were organised into three categories: experiences, desires and meanings of living with EADL. Users' and non users' groups revealed homogenous themes. Experiences and desires are explored further in this paper. Themes within the category of experiences included: EADL devices, supply support and training, abandonment, mouthsticks and powered wheelchairs. Desires included: simple stuff, reliability, aesthetics and voice activation. Findings offer valuable personal insights about life with EADL to be considered by all involved with EADL.
Keywords
Environmental control systems (ECS)
,
Focus groups
,
Tetraplegia/quadriplegia
,
Qualitative
,
Electronic Aids to Daily Living (EADL)
,
Electronic assistive technology (EAT)
Citation
Verdonck, M.C., Steggles, E., & Chard, G. (2009). Experiences and desires of people with tetraplegia living with and without electronic aids to daily living: an Irish focus group study. In: RESNA Assistive Technology & All That Jazz. 23-27 June 2009, New Orleans, USA.