Co-designing opportunities towards the development of Irish offshore wind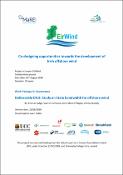 Files
Publisher
MaREI Centre, Environmental Research Institute, University College Cork
Abstract
The aim of this study is to assess the capacity within Government departments and associated State agencies in terms of human resources to deliver Ireland's offshore wind targets (e.g. 3.5GW by 2030), and make recommendations on the investment in human resources required. Discussions were held with representatives from a number of Government departments and agencies to determine the numbers of people currently engaged in work relating to offshore wind and to gain an understanding of the tasks that must still be accomplished before offshore wind turbines can be installed in Irish waters. The planning and consenting process for offshore wind in Scotland was also investigated to see if there are lessons to be learned by Ireland from the Scottish experience. It was found that there are a number of potential bottlenecks within the consenting process that must be addressed if Ireland's offshore wind targets are to be met. It is likely that An Bord Pleanála will receive a surge of offshore wind farm applications from Relevant Projects in 2021/2022; therefore, it is recommended that a minimum of 10 staff within An Bord Pleanála should be dedicated to processing these applications. Both the Department of Housing, Planning and Local Government, and the Department of Communications, Climate Action and the Environment will need additional resourcing to ensure efficient marine planning and consenting processes. It is also recommended that resources are fed into the statutory consultees to ensure proper consultation and to prevent challenges on nature conservation grounds creating lengthy delays. For this reason also, the establishment of a coordinated scientific research and data collection programme is recommended to support the marine spatial planning and consenting processes.
Description
Study on State bandwidth for offshore wind
Keywords
Ireland's offshore wind targets
,
Human resources
Citation
Judge, F., Cummins, V., O'Hagan, A. M. and Murphy, J. (2020) Co-designing opportunities towards the development of Irish offshore wind, EirWind Project, D4.8 (13pp). doi: 10.5281/zenodo.4130053
Copyright
© 2020, the Authors. The content of the publication herein is the sole responsibility of the authors and does not necessarily represent the views of the industry partners, Science Foundation Ireland, University College Cork or their services. Without derogating from the generality of the foregoing neither the EirWind Consortium nor any of its members, their officers, employees or agents shall be liable for any direct or indirect or consequential loss or damage caused by or arising from any information advice or inaccuracy or omission herein.