Uncertainty in wind energy forecasting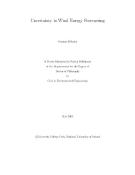 Files
Abstract
Wind energy is the energy source that contributes most to the renewable energy mix of European countries. While there are good wind resources throughout Europe, the intermittency of the wind represents a major problem for the deployment of wind energy into the electricity networks. To ensure grid security a Transmission System Operator needs today for each kilowatt of wind energy either an equal amount of spinning reserve or a forecasting system that can predict the amount of energy that will be produced from wind over a period of 1 to 48 hours. In the range from 5m/s to 15m/s a wind turbine's production increases with a power of three. For this reason, a Transmission System Operator requires an accuracy for wind speed forecasts of 1m/s in this wind speed range. Forecasting wind energy with a numerical weather prediction model in this context builds the background of this work. The author's goal was to present a pragmatic solution to this specific problem in the "real world". This work therefore has to be seen in a technical context and hence does not provide nor intends to provide a general overview of the benefits and drawbacks of wind energy as a renewable energy source. In the first part of this work the accuracy requirements of the energy sector for wind speed predictions from numerical weather prediction models are described and analysed. A unique set of numerical experiments has been carried out in collaboration with the Danish Meteorological Institute to investigate the forecast quality of an operational numerical weather prediction model for this purpose. The results of this investigation revealed that the accuracy requirements for wind speed and wind power forecasts from today's numerical weather prediction models can only be met at certain times. This means that the uncertainty of the forecast quality becomes a parameter that is as important as the wind speed and wind power itself. To quantify the uncertainty of a forecast valid for tomorrow requires an ensemble of forecasts. In the second part of this work such an ensemble of forecasts was designed and verified for its ability to quantify the forecast error. This was accomplished by correlating the measured error and the forecasted uncertainty on area integrated wind speed and wind power in Denmark and Ireland. A correlation of 93% was achieved in these areas. This method cannot solve the accuracy requirements of the energy sector. By knowing the uncertainty of the forecasts, the focus can however be put on the accuracy requirements at times when it is possible to accurately predict the weather. Thus, this result presents a major step forward in making wind energy a compatible energy source in the future.
Keywords
Ensemble weather prediction
,
Wind power forecasting
,
Uncertainty of forecasts
,
Probabilistic forecasting
,
Multi-scheme ensemble prediction system
,
Wind energy
Citation
Möhrlen, C., 2004. Uncertainty in wind energy forecasting. PhD Thesis, University College Cork.