Design, fabrication and characterisation of components for microfluidic enzymatic biofuel cells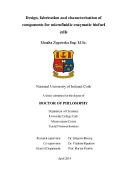 Files
Abstract
The concept of a biofuel cell takes inspiration from the natural capability of biological systems to catalyse the conversion of organic matter with a subsequent release of electrical energy. Enzymatic biofuel cells are intended to mimic the processes occurring in nature in a more controlled and efficient manner. Traditional fuel cells rely on the use of toxic catalysts and are often not easily miniaturizable making them unsuitable as implantable power sources. Biofuel cells however use highly selective protein catalysts and renewable fuels. As energy consumption becomes a global issue, they emerge as important tools for energy generation. The microfluidic platforms developed are intended to maximize the amount of electrical energy extracted from renewable fuels which are naturally abundant in the environment and in biological fluids. Combining microfabrication processes, chemical modification and biological surface patterning these devices are promising candidates for micro-power sources for future life science and electronic applications. This thesis considered four main aspects of a biofuel cell research. Firstly, concept of a miniature compartmentalized enzymatic biofuel cell utilizing simple fuels and operating in static conditions is verified and proves the feasibility of enzyme catalysis in energy conversion processes. Secondly, electrode and microfluidic channel study was performed through theoretical investigations of the flow and catalytic reactions which also improved understanding of the enzyme kinetics in the cell. Next, microfluidic devices were fabricated from cost-effective and disposable polymer materials, using the state-of-the-art micro-processing technologies. Integration of the individual components is difficult and multiple techniques to overcome these problems have been investigated. Electrochemical characterization of gold electrodes modified with Nanoporous Gold Structures is also performed. Finally, two strategies for enzyme patterning and encapsulation are discussed. Several protein catalysts have been effectively immobilized on the surface of commercial and microfabricated electrodes by electrochemically assisted deposition in sol-gel and poly-(o-phenylenediamine) polymer matrices and characterised with confirmed catalytic activity.
Keywords
Microfluidic enzymatic biofuel cell
,
Microfluidic
,
Enzyme
,
Biofuel cell
Citation
Żygowska, M. 2014. Design, fabrication and characterisation of components for microfluidic enzymatic biofuel cells. PhD Thesis, University College Cork.