Modelling the ecology, dynamics and assessment of Nephrops norvegicus (Linnaeus 1758) in the waters around Ireland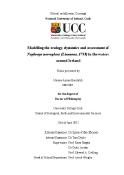 Files
Abstract
Nephrops norvegicus is a valuable market species in the North-East Atlantic and it is of economic importance to Ireland. The present study investigated the status of the Aran ground stock, frequently ranked within the top two commercially valuable "fish" landed. Since 2002, under water TV surveys have been developed to provide a fishery independent estimate of burrow abundance in areas that exhibited a steady decrease in Nephrops over two decades contrasting with the increasing landings. In order to identify stock status and provide reliable information to management, we used a number of different approaches in the fields of time series analysis, spatial analysis and fisheries stock assessment. We examined the temporal fluctuations in a 16 year time series of landings in Aran grounds and found fluctuating cycles within an overall decreasing trend. This stock dynamic was also compared with the other main areas of harvest off the coast of Ireland (Smalls ground, Porcupine Bank, and the west Irish Sea) disclosing a regional common trend in the pattern of the stocks for connecting areas. Regional climatic influences (e.g NAO, AO and AMO) have been detected on various time scales ranging from month to years and the time series analysis method appears effective for detecting changes in fishing behaviours. Spatial analysis of the burrow density over the stock area revealed patchy distribution varying in size and intensity over the years with a spatio-temporal trend marked by a depletion of abundance in midfield with noticeable consequences for fishing vessel activity at a regional level. This spatial approach enabled the evaluation of the influence of the mud content of the seabed on the density of burrows and to explore the potential impact of the prevailing current circulation pattern during the planktonic stage of Nephrops on the level of recruitment by using remote sensing data. For an optimal fisheries management strategy, demographic information for the exploited species is necessary and for Nephrops, effective stock assessment is hampered because of the difficulty in age determination. A biomass model with a Schaefer surplus yield component and a data limited CMSY method were chosen to address the lack of age data and to predict biomass and related key fisheries reference points. Both approaches underline the ongoing decline of Nephrops abundance and reveal warning signals of unsustainable fishing exploitation.
Keywords
Fishery
,
Stock assessment
,
Spatial analysis
,
Time series analysis
Citation
Benchikh, H. A. 2022. Modelling the ecology, dynamics and assessment of Nephrops norvegicus (Linnaeus, 1758) in the waters around Ireland. PhD Thesis, University College Cork.