Redox remodelling in diaphragm muscle adaptation to chronic sustained hypoxia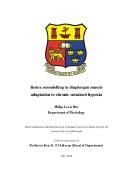 Files
Abstract
Chronic sustained hypoxia (CH) induces functional weakness, atrophy, and mitochondrial remodelling in the diaphragm muscle. Animal models of CH present with changes similar to patients with respiratory-related disease, thus, elucidating the molecular mechanisms driving these adaptations is clinically important. We hypothesize that ROS are pivotal in diaphragm muscle adaptation to CH. C57BL6/J mice were exposed to CH (FiO2=0.1) for one, three, and six weeks. Sternohyoid (upper airway dilator), extensor digitorum longus (EDL), and soleus were studied as reference muscles as well as the diaphragm. The diaphragm was profiled using a redox proteomics approach followed by mass spectrometry. Following this, redox-modified metabolic enzyme activities and atrophy signalling were assessed using spectrophotometric assays and ELISA. Diaphragm isotonic performance was assessed after six weeks of CH ± chronic antioxidant supplementation. Protein carbonyl and free thiol content in the diaphragm were increased and decreased respectively after six weeks of CH – indicative of protein oxidation. These changes were temporally modulated and muscle specific. Extensive remodelling of metabolic proteins occurred and the stress reached the cross-bridge. Metabolic enzyme activities in the diaphragm were, for the most part, decreased by CH and differential muscle responses were observed. Redox sensitive chymotrypsin-like proteasome activity of the diaphragm was increased and atrophy signalling was observed through decreased phospho-FOXO3a and phospho-mTOR. Phospho-p38 MAPK content was increased and this was attenuated by antioxidant treatment. Hypoxia decreased power generating capacity of the diaphragm and this was restored by N-acetyl-cysteine (NAC) but not by tempol. Redox remodelling is pivotal for diaphragm adaptation to chronic sustained hypoxia. Muscle changes are dependent on duration of the hypoxia stimulus, activity profile of the muscle, and molecular composition of the muscle. The working respiratory muscles and slow oxidative fibres are particularly susceptible. NAC (antioxidant) may be useful as an adjunct therapy in respiratory-related diseases characterised by hypoxic stress.
Keywords
Redox remodelling
,
Chronic sustained hypoxia
,
Diaphragm
,
Muscle function
,
Antioxidants
Citation
Lewis, P. 2014. Redox remodelling in diaphragm muscle adaptation to chronic sustained hypoxia. PhD Thesis, University College Cork.