Home birth in Ireland 1993 - 1997: a review of community midwifery practice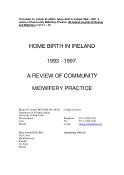 Files
Abstract
To date little is known about the practices of domiciliary midwives and the outcomes of home birth in Ireland. The purpose of this review is to provide some background information on the situation for women seeking a home birth and to document the outcomes of home births in Ireland between 1993 -1997. Design: Descriptive analysis of prospective data collected from domiciliary midwives regarding women who requested a home birth between 1993 and 1997. Participants: The questionnaire was distributed to 15 domiciliary midwives; this included all the domiciliary midwives known to the authors to be practising in Ireland at that time. Findings: During this period, 585 women planned to give birth in their home with the assistance of midwives, 500 women achieved this. The spontaneous vaginal delivery rate for women who commenced their labour at home was 96.9% (n = 554). These women gave birth without medications or other interventions. 544 (93%) of the women breastfed their babies and 538 (92%) were still breastfeeding at 6 weeks. This is the first review of domiciliary midwifery practice in Ireland in recent years. They obtained data from 11 independent midwives on 585 women who planned home births. Findings showed high rates of spontaneous vaginal delivery and breastfeeding. There were 500 babies born at home with three perinatal deaths, including one undiagnosed breech delivery, one infant with abnormal lungs on post-mortem and one infant with Potter's Syndrome who was stillborn.
Keywords
Home birth
,
Domiciliary midwives
,
Domiciliary midwifery practice
Citation
O'Connell, R., Cronin M.; (2002) 'Home Birth in Ireland 1993 - 1997: a review of Community Midwifery Practice'. All Ireland Journal of Nursing and Midwifery, 2 (2):41-46.