The transformation of Ireland 1958 - 93: the role of ideas in punctuating institutional path dependency at critical junctures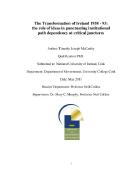 Abstract
Ireland experienced two critical junctures when its economic survival was threatened: 1958/9 and 1986/7. Common to both crises was the supplanting of long established practices, that had become an integral part of the political culture of the state, by new ideas that ensured eventual economic recovery. In their adoption and implementation these ideas also fundamentally changed the institutions of state – how politics was done, how it was organised and regulated. The end result was the transformation of the Irish state. The main hypothesis of this thesis is that at those critical junctures the political and administrative elites who enabled economic recovery were not just making pragmatic decisions, their actions were influenced by ideas. Systematic content analysis of the published works of the main ideational actors, together with primary interviews with those actors still alive, reveals how their ideas were formed, what influenced them, and how they set about implementing their ideas. As the hypothesis assumes institutional change over time historical institutionalism serves as the theoretical framework. Central to this theory is the idea that choices made when a policy is being initiated or an institution formed will have a continuing influence long into the future. Institutions of state become 'path dependent' and impervious to change – the forces of inertia take over. That path dependency is broken at critical junctures. At those moments ideas play a major role as they offer a set of ready-made solutions. Historical institutionalism serves as a robust framework for proving that in the transformation of Ireland the role of ideas in punctuating institutional path dependency at critical junctures was central.
Keywords
Irish State
,
Irish economy
,
Political culture
,
Economic recovery
,
Political ideology
,
Institutional change
,
Historical institutionalism
,
Administrative change
,
Free Trade
,
Government policy
,
Social partnership
Citation
McCarthy, T. J. 2011. The transformation of Ireland 1958 - 93: the role of ideas in punctuating institutional path dependency at critical junctures. PhD Thesis, University College Cork.